How Can I Apply for a PayPal Credit Card?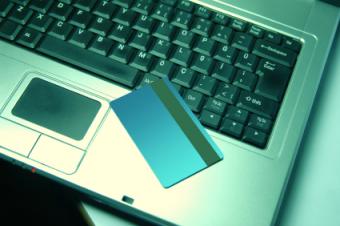 Frequent PayPal and eBay users might ask, "How can I apply for a PayPal credit card?" Fortunately, PayPal makes the answer to that question quite simple. PayPal enables users to access information about and apply for the PayPal Extras MasterCard directly from their main account page. The application consists of three steps, and PayPal promises a response within 30 seconds.
How Can I Apply for a PayPal Credit Card?
PayPal makes applying for its PayPal Extras MasterCard possible through a member's account. A link to the credit card exists on the main page of each PayPal account. Accessing the link takes users to the credit card's main page, which contains basic card information and a link to the application. Users can access this link to begin the online application. There is no need, therefore, to continue wondering "How can I apply for a PayPal credit card?"
The online application draws an applicant's email address, home phone number and street address from their existing PayPal account. Applicants must provide their date of birth, annual income, and agree to the card's terms and conditions located on the same page.
Application approval depends on the applicant's credit score and history. PayPal promises a response to an application within thirty seconds. Potential responses include an offer of a line of credit, a denial of an application or a noncommittal response with an explanation that PayPal must inquire further into the application. PayPal provides the credit card limit and interest rate after approval.
If accepted, MasterCard immediately provides the applicant's PayPal account with a line of credit. MasterCard mails the actual card to the applicant, and it typically arrives within 7-10 business days. After the card's activation, MasterCard transfers charges made to the line of credit to the credit card balance.
Non-PayPal Account User Applications
The answer to "How can I apply for a PayPal credit card?" includes the requirement that an individual have a PayPal account. Setting up a PayPal account is a three-step process completed on the company's website. In the first step, users select their country, language and primary intended use for the account: personal or business. A personal account makes the account holder eligible to apply for a PayPal Extras MasterCard. During the second step, PayPal requires users to provide their name, email address, telephone number, street address and bank information, including bank name, mailing address and checking account number. The next page takes users to their new account. Users can add a credit card, more bank information or additional personal contact information after creating their account.
PayPal Extras MasterCard Information
The PayPal Extras MasterCard functions the same as other credit cards. It is usable at any location that accepts MasterCard as a form of payment. Cardholders are billed on a monthly basis and charged an annual percentage rate of interest.
The card, however, awards various amounts of points depending on the type of purchase. Users receive 3 points for every dollar spent at gas stations and restaurants, 2 points for every dollar spent on PayPal or eBay and one point for every other dollar spent. Cardholders can use earned points to redeem rewards directly from MasterCard. Rewards include gift cards, small appliances and travel vouchers.
For no additional cost, the Extras MasterCard also provides extended buyer protection for all PayPal purchases. This program reimburses cardholders for items bought online that were not in the promised condition upon arrival or never delivered but for which the cardholder did not receive a refund from the seller. Reimbursements are credited directly to the card.
MasterCard also gives cardholder the extra benefit of having no liability for unauthorized charges. This means that if a card number is stolen and used the cardholder will not need to pay for any of the charges.
Applying for Your PayPal Credit Card
Applying for an Extras MasterCard is relatively easy for PayPal users. The fast response time permits applicants to know immediately their application's status. PayPal users interested in the credit card should thoroughly read the card's terms and conditions prior to applying.